The missing link has been filled, so a combination of the Blue Line (MRT underground) and Purple Line provide a good option for getting from Sukhumvit to the fast disappearing orchards of Nonthaburi.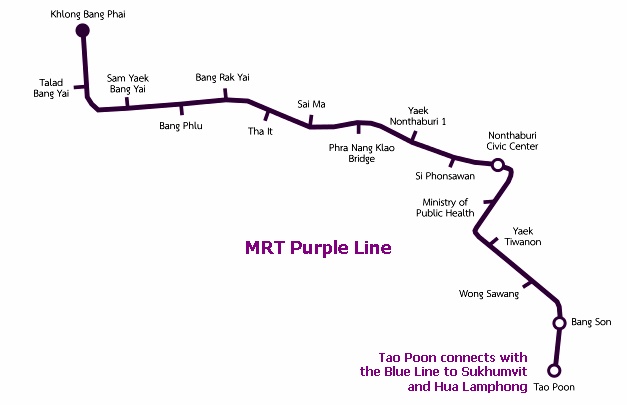 There are lots of stations so the journey isn't fast but the timing is fairly predictable as it isn't subject to policemen leaving traffic lights at red for ten minutes. For example, from walking into Sukhumvit station it takes about 70 minutes until you will be walking out of the Pra Nangklao Bridge station. If you can get a seat you can spend your time doing something productive like knitting or playing with your phone.
You have to change trains at the end of the Blue Line - Tao Pun, but amazingly you transfer from the Blue to the Purple line within the same station! You don't even go through a ticket barrier, so if you don't have an MRT stored value ticket make sure you get a ticket to your final destination when you start your journey.
Useful Stations for Hashers
Yaek Tiwanon (60 minutes from Sukhumvit) is on Krungthep-Nonthaburi Road 3km from the Rama 5 Bridge. Leave the station by Exit 4 and get a taxi to run sites near Nakon In Road.
Phra Nang Klao Bridge station (70 minutes from Sukhumvit) is on the east side of the bridge. Alight here and leave the station by Exit 3 at the end of the station nearest the river. Everyone else will be leaving the station at the opposite end. After coming our of the station cross the wasteland to the stairs that take you up onto the bridge to get to runsites on the other side of the river. If you need to get a taxi from here leave by Exit 2 at the other end of the station.
Tha It (75 minutes from Sukhumvit) is the station you want for runsites down Ratchapreuk Road.
Bang Phlu (80 minutes from Sukhumvit) is the station for runsites in Bang Yai. Leave the station by Exit 3 and get a taxi which can immediately turn left down the road to Bang Yai.